What is XUS Clock?
XUS Clock - A powerful & colorful alarm clock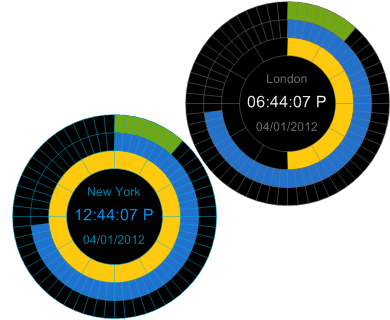 XUS Clock is a powerful & colorful alarm clock with an innovative clock face. The clock color, size are totally customizable as you wish. It supports current local time in cities and countries worldwide, in all time zones with DST. XUS Clock allows you set more than 128 alarm times. And you can choose a WAV file or use the default for each of your alarms. The program, while functional and easy to understand, It could let you personalize a display message or set a computer action (such as Shutdown Computer, Restart Computer...) when an alarm triggers. So it is not just a clock, It could be your life assistant.
System Requirements:
Windows XP, 2003, Vista, 7.0, 2008, 8.0 (32bit & 64bit)
Benefits & Features - A powerful & colorful alarm clock.
* Innovative & beautiful clock face.
* Customize clock size & color.
* World clock in all time zones with Daylight Saving Time.
* Easy to use and manage clocks & alarms.
* Personalize your display message & alarm sound.
* Set a timer to execute a computer action (such as shutdown, restart, lock computer or open a file).
* Allow you set alarms for every clock in different time zone.


XUS Clock - Screenshot
What people say about XUS Clock?
Reviewed by Softoxi.com Editor - April 09, 2012
"If you are looking for an easy way to improve your desktop, then you should definitely try XUS Clock. This beautifully designed piece of software is not only a great embellishment for the screen of your computer, but also a handy and effective solution for your time keeping needs."
What is the difference between Free Edition and Plus Edition?
| | | |
| --- | --- | --- |
| | Free Edition | Plus Edition |
| Basic Clock | | |
| Customize Clock Theme | | |
| Additional Clock | | |
| Alarm | | |
| Computer Shutdown Timer | | |
| Computer Restart Timer | | |